PORTLAND, Ore. — Armando Bacot called Pete Nance's 28-point performance on Thursday his "coming out party" as a Tar Heel. Nance was an efficient 8-for-13 from the field and hit 5-of-8 threes to lead North Carolina to an 89-81 win over Portland in the opening game of the Phil Knight Invitational. He scored 10 of UNC's first 18 points to start the second half
It was the type of performance that Nance and UNC needed, especially from a shooting standpoint. The Tar Heels finished the game 11-for-22 from deep.
"I like it. I like FGMs," UNC head coach Hubert Davis simply said about Nance's shooting success after the game.
Davis then rattled off how thankful and lucky he is to have Nance on this team, but added that the aggression and attitude Nance showed Thursday is what he wants to see and needs to see.
"The thing that I was really happy about Pete today is I felt like Pete was really aggressive," Davis said. "One of the conversations I've had with him a number of times is he's such a nice kid and he wants to fit in. And I try to tell them the way you fit in is to be a dude. And don't worry about 'you're the new guy on the block.' Like, we didn't recruit you to be a role player. We recruited you to be what you did today. Step on people's shoes and continue to be aggressive. And I thought today, Pete played. And, regardless of him scoring 28 points, that's the way I want them to play moving forward."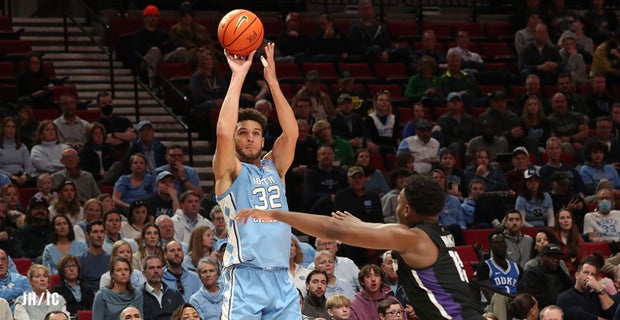 For Nance, he continues to feel more comfortable with UNC's system and the program. He has only played five games with these teammates. There is an adjustment period and that is something that Nance admitted in the locker room on Thursday.
"I think I'm definitely starting to figure it out more and more," Nance said. "I think as I gain experience with these guys, that's only going to continue to get better and better. I've loved the way it's progressed so far. And I feel so much more comfortable from the first game to now.
"I think it's just figuring out my spots, figuring out when to cut, when to go to the glass, just reacting off these guys… just figuring out how I can help them and how we can help each other. I think it's come such a long way and it's only gonna get better."
After five games, Nance is averaging 14.0 points and 4.0 rebounds while shooting 56.4 percent from the field and 47.4 percent from three.
Nance's ability to hit threes gives UNC a third outside shooter. It's something they need and something that made them so dangerous last season with Brady Manek.
"It just opens up the floor for everyone. Teams know they have to respect him," Bacot said. "I knew it was coming. The way he can shoot the ball and the way you see him out there defensively protecting the rim, it's great."
Added RJ Davis, "(Nance) was phenomenal down the stretch, the way he was able to make shots, big-time shot after shot that got his confidence going. I'm super proud of him, the way he was able to step in, and when we needed him to score, he did. His impact on the game today is something that we'll need all year… He's so crafty, has a high IQ, and the great thing about him is he's a very unselfish player."