HOUSTON – Rapper Takeoff, a member of the popular Georgia group Migos along with Quavo and Offset, was killed in an early morning shooting at a Houston bowling alley. He was 28 years old.
The Houston Police Department said the rapper, whose real name is Kirshnik Khari Ball, was killed following a private party at a bowling alley in the Texas city shortly after 2:30 a.m. Tuesday.
"I got many call from Houston and outside of Houston, and everyone spoke of what a great young man this is. How peaceful he is. What a great artist," said Houston Police Chief Troy Finner said during a press conference Tuesday afternoon. 
Police responded to reports of a shooting at 810 Billiards & Bowling, where dozens of people had gathered on outside the bowling alley, which is on the third floor, police said. Officers discovered one man dead when they arrived.
"I spoke to this young man's mother just an hour ago. Flew in here from out of town. I want everybody to understand the pain and suffering of a mother. Very tough," said Chief Finner. "And I told her, we stand with any victim of violence."
Security guards who were in the area heard the shooting but did not see who did it, a police spokesperson said.
Footage obtained by TMZ shows Quavo, another former member of Migos, yelling for help after the shooting.
At the time of the shooting, around 40 to 50 people were at the bowling alley. Police say an argument erupted and led to gunshots. Two people, a 23-year-old man and a 24-year-old female, were taken to an area hospital. Both are expected to survive their injuries.
Chief Finner said investigators did not immediately know what sparked the fight and doesn't think Takeoff started the violence.
"Based on what people say about him, he is well respected, non-violence, I would not expect him to be involved. OK, but I do want to wait on the investigation, but we have no reason to believe he was involved in anything criminal at the time," the chief said.
Investigators are asking witnesses who might have fled the scene to come forward. 
"Even if we have a face, the best thing is if somebody could stand up, because somebody knows exactly who it was, and I am really confident somebody is going to step up," Chief Finner said.
They are also asking that any videos of the shooting be sent to investigations.
"Bottom line, mark my word, and mark it, this great city, with our great citizens, with our police department, we will find who is responsible for it," the chief said.
No arrests have been made.
Police at the scene of the shooting where sources say Migos rapper Takeoff was killed. (KRIV)
Hours before the shooting, Takeoff shared a photo on his Instagram story of himself at the bowling alley. He had just released the music video for his new song "Messy" the day before.
Migos was formed by Takeoff, his uncle Quavo, and his cousin Offset in 2008 in Georgia. 
After blowing up with their 2013 song "Versace,"  the group dominated on the pop and rap charts, as well as streaming platforms like Spotify and Apple Music, with songs like "Bad and Boujee," ″MotorSport," ″Stir Fry" and "Walk It Talk It." Their albums — "Culture" and "Culture II" — reached platinum status and each hit the No. 1 spot on the Billboard 200 albums chart.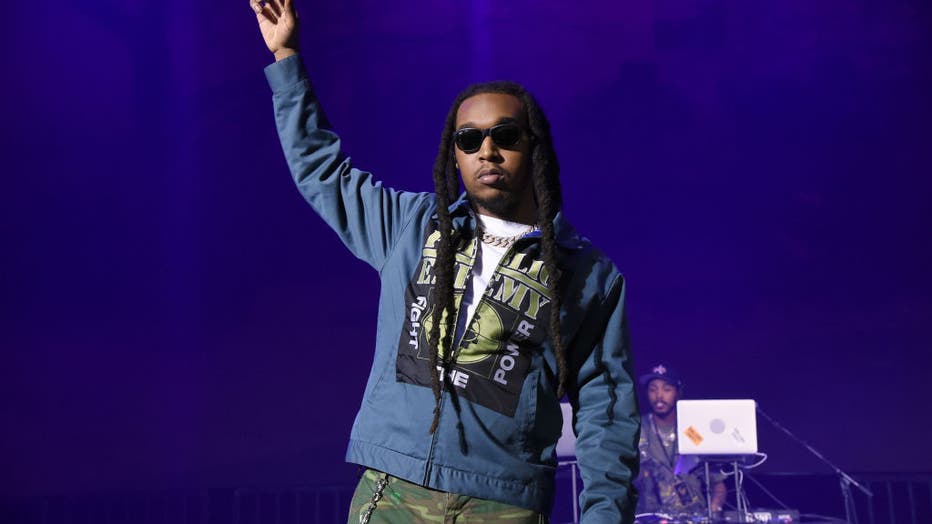 Takeoff of Migos performs onstage for Call of Duty: Vanguard launch event on November 03, 2021 in Los Angeles, California. (Photo by Michael Kovac/Getty Images for Activision)
They also played a fictional version of themselves on an episode of the hit TV show "Atlanta."
Offset, who is married to Cardi B, released a solo album in 2019, while Takeoff and Quavo released a joint album "Only Built for Infinity Links" last month.
Tuesday morning, several fans had gathered across the street from the bowling alley, which is in a three-story downtown Houston retail complex that includes high-end restaurants, a House of Blues and is near a Four Seasons hotel.
This story is breaking. Check back for details. If you have additional information, pictures, or video email [email protected].
TMZ and The Associated Press contributed to this report.