For the second straight week, Penn State faced off with an opponent in adverse weather conditions and scored a resounding victory when it dominated Maryland, 30-0, on a dreary afternoon at Beaver Stadium.
One week after blowing out Indiana in the wind at Bloomington, Ind., the No. 14 Nittany Lions battled the Terrapins in the rain in State College, and they acquitted themselves well. Penn State outgained Maryland, 413-134, and the game was never really in doubt after the first quarter.
Once again, the Penn State (8-2, 5-2 Big Ten) ground game paced the Nittany Lions past Maryland (6-4, 3-4), and quarterback Sean Clifford — who passed Trace McSorley for the program's all-time passing yardage record — wasn't asked to do too much. The end result was Maryland's first shutout loss since Penn State routed the Terps, 59-0, in College Park, Md., in 2019.
TURNING POINT: Nick Singleton breaks off a big one.
Running back Nick Singleton continued his sensational freshman season in the first quarter when he broke off a 45-yard touchdown on fourth-and-1 to give Penn State a two-touchdown lead. The Nittany Lions lined up in their "T" formation, and Singleton followed running back Kaytron Allen and tight end Brenton Strange through the right side of the offensive line. Once Singleton got into space, he accelerated and ran away from the Maryland defense. After scoring a relatively easy touchdown on their first drive, Penn State scuffled through its second and was forced to punt. Singleton, though, got the Lions back on track and helped gap the Terps early.
OFFENSIVE GAME BALL: Running back Nick Singleton
Singleton's star-making freshman season continued against Maryland with 11 carries for 122 yards (11.1 yards per carry) and two touchdowns Saturday. For Singleton, it was the third 100-yard game of the season and his first since he rushed for 124 yards against Auburn on Sept. 17. Over the past few weeks, Singleton has become an improved runner between the tackles, and that was clear on his two long touchdown runs where he got through the line of scrimmage and took off into the next level. Singleton was a five-star recruit and the No. 1 running back in 247Sports' Class of 2022 rankings, and that once again showed Saturday.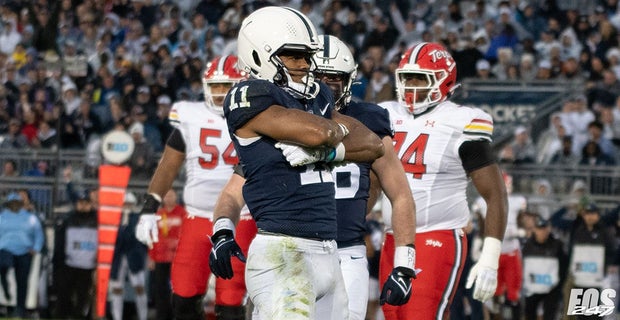 DEFENSIVE GAME BALL: Linebacker Abdul Carter
Another game ball, another freshman. As he has been for most games, linebacker Abdul Carter was all over the field for the Penn State defense. Carter recorded a team-high seven tackles (three solo), one tackle for loss, one sack, two quarterback hurries and one forced fumble. On a third down in the third quarter, Carter flew in off the edge, leapt and deflected Maryland quarterback Taulia Tagovailoa's pass attempt. The freshman has been a menace to opposing defenses, and he got a bead on Tagovailoa early and often.
SPECIAL TEAMS GAME BALL: Kicker Jake Pinegar
During his five seasons at Penn State, kicker Jake Pinegar hadn't made a 50-yard field goal before last week. Now, he has two 50-yarders in two weeks. Pinegar tied his career high in the first half against Maryland and added a 46-yarder as time expired in the second quarter to give the Nittany Lions a 27-0 halftime lead at the break. Overall, Pinegar was 3 of 3 on field goals, 3 of 3 on extra points and kicked 3 of his 6 kickoffs for touchbacks. After some struggles early in the season, Pinegar has found his footing nicely for Penn State.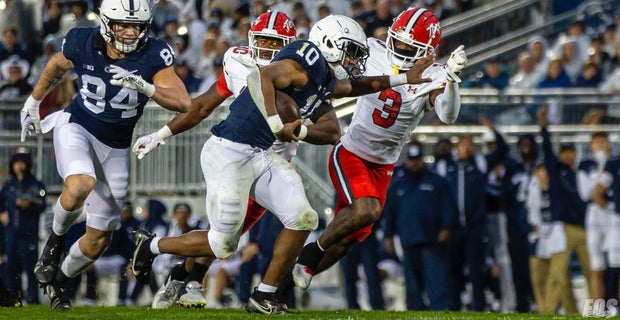 TURNING POINT: Singleton has another big run.
Singleton continued to show his ability to change a game on one play later in the second quarter when he broke off a 27-yard touchdown run to make it 21-0. It was the same play as his earlier 45-yarder on the same fourth-and-1. This time, Singleton navigated through traffic and then dragged Maryland cornerback Deonte Banks into the end zone for an impressive showcase of his strength and explosiveness. The way the Maryland offense was playing, the Terps weren't going to be able to overcome a three-touchdown deficit.
OFFENSIVE GAME BALL: Penn State offensive line
Despite missing two of its top players in left tackle Olu Fashanu and left guard Landon Tengwall, the Penn State offensive line hasn't missed a beat. Entering the fourth quarter Saturday, Penn State hadn't allowed a sack, and the Maryland defense had just two tackles for loss. The running lanes were there for Singleton and Kaytron Allen at running back, and the line helped keep quarterback Sean Clifford upright. The starting group of left tackle Drew Shelton, left guard Hunter Nourzad, center Juice Scruggs, right guard Saleem Wormley and right tackle Bryce Effner imposed its will in a physical manner against the Terps front.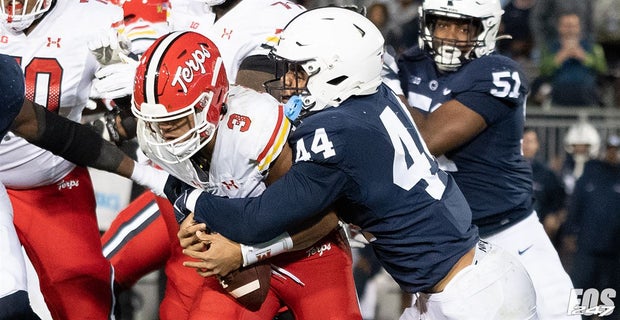 DEFENSIVE GAME BALL: Defensive end Chop Robinson
Last week, Chop Robinson downplayed the significance of facing his former team, but the Penn State defensive end, who transferred in from Maryland in the spring, appeared amped up Saturday afternoon. Robinson, who was a game captain, had his first career multi-sack game with TWO sacks of Tagovailoa. Robinson, along with plenty of other Nittany Lions, were presences in the backfield all game long as Penn State finished with seven sacks and nine tackles for loss. After sacking Indiana quarterbacks six times last week, this marked the first time Penn State has had at least six sacks in consecutive games since 2007.
SPECIAL TEAMS GAME BALL: n/a
Barney Amor averaged 37.3 yards on three punts with a long of 53, but one of those kicks was a 16-yarder that was arguably his worst punt of the season. He did place two inside the 20. In the second half, freshman punter Alex Bacchetta made his collegiate debut with a 41-yard punt.
TURNING POINT: Zane Durant sacks Taulia Tagovailoa.
The Penn State defense set the tone for the day on its first series when it forced a Maryland three-and-out, the first of six on the evening. And freshman defensive tackle Zane Durant punctuated it by recording his first career sack on third down by dragging Tagovailoa to the turf at the Terps 5-yard line. Durant burned his redshirt earlier this season after standing out during winter workouts and spring ball, but he had been mostly quiet through the early part of the season. Durant made his presence known early, and it held as Penn State got after Tagovailoa all game long.
Daniel Gallen covers Penn State for Lions247 and 247Sports. He can be reached at [email protected]. Follow Daniel on Twitter at @danieljtgallen.